What's up with PeopleSoft 9.3
All the PeopleSoft customers agree on one thing – the product is excellent but upgrades have been expensive as well as disruptive. This has led to many PeopleSoft customers in similar situation where the preferred path is to upgrade as infrequently as possible and/or wait for multiple releases before deciding on upgrade. Business drives customers to keep adding customization in this wait-n-watch period and all this eventually adds to the complexity and cost of doing an upgrade.
Before version 9.2 came out in 2013, customers on the current release only received maintenance, fixes, and legal and regulatory updates. Meanwhile, the PeopleSoft team was busy developing new features for the next major release. "Everything was always an upgrade away." says Marc Weintraub, PeopleSoft Product Strategy Director, Oracle. Additionally, past changes in the form of maintenance bundles, maintenance packs, and major releases had so many pre-requisites and post-requisites that they were essentially all-or-nothing type. This drove up not only the cost to upgrade, but also the cost to stay current on maintenance. "Customers didn't want to apply mass amounts of changes because there was a lot of stuff they didn't want or care about," he says.
Oracle PeopleSoft team embarked on a mission – to ease the upgrade pain and close the gap between what they're working on and what's available to you. You're probably aware of Oracle's planned major release schedule for PeopleSoft (every three years or so), and perhaps you've also heard that the team has been moving towards a more continuous delivery model by adding new capabilities outside of major releases.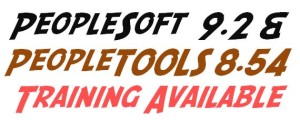 PeopleSoft 9.2 has been a game changer in this regard. The new PeopleSoft delivery model allows customers to leverage PeopleSoft Image releases and PeopleSoft Update Manager to get new capabilities without having to wait and watch or upgrade. This allows customers to take only the changes they want and need, and to determine when they adopt those changes.
A great real world example of this is a buffet versus a large sit down dinner. Old PeopleSoft upgrade model was primarily a large sit down dinner model while the 9.2 model has been a buffet style, which lets you decide and cherry pick a la carte-style. Nearly all new PeopleSoft development is planned to be delivered on the current release – PeopleSoft 9.2. This closes that gap between what the the customer has and what Oracle PeopleSoft team is working on.
"Once you're on PeopleSoft 9.2, the development team is delivering new features for you, while you are on PeopleSoft 9.2. You're able to get value now, without the need to wait and upgrade to the next major release. Each PeopleSoft Image is a fully patched, full PeopleSoft code line and best of all, they are cumulative." ," Weintraub explained.
The current image 8 release (9.2.008) contains everything from the PeopleSoft 9.2 Image 1 to Image 7 plus new content. This means that customers can use the PeopleSoft Update Manager to select changes from the most current PeopleSoft Image, regardless of their current maintenance state, and whether or not they took any changes from the previous Images. "Gone are the days of needing to apply a series of patches in sequential order," Weintraub added.
So, what does this mean for PeopleSoft 9.3? "Right now the PeopleSoft team is focused on delivering as much as we can on top of PeopleSoft 9.2," Weintraub said. He reiterated that the new delivery model allows 9.2 customers to adopt new features as they become available, without having to wait for a major release. "We want customers to maximize their value from PeopleSoft as quickly as possible," Weintraub said. "We are eager to see how our customers embrace this new delivery model and the PeopleSoft Update Manager. Then we will go from there."