5
What are different types of PeopleSoft Virtual Images?
As most of you would already know that Oracle is now delivering PeopleSoft Virtual Images that can be used for variety of purposes like Demo, training purposes, applying patches, during upgrade etc. One thing to note here is that there are 3 different types of images currently available and you should review these image types, then decide and deploy the one that meets your requirement.
For e.g. If you download and deploy PeopleSoft Demo Image, you won't be able to extract PeopleSoft patches from it. For maintenance of PeopleSoft 9.2 applications, you would need to download and deploy PeopleSoft Image(PI) to be used with PeopleSoft Update Manager (PUM). Each PeopleSoft Virtual Image type has a specific purpose.
Below you will find the differences between each type of PeopleSoft Image and what are their uses. There are 3 types of PeopleSoft Virtual Images that are delivered by Oracle.
1. Demo Image:
Demo Image can be used for doing demonstrations, trainings, bug replications etc. It also includes SES server and hence would be larger in size than other 2 image types. If you're a PeopleSoft customer with Oracle database with English only environment, then you can use this image as your Demo environment and don't need to maintain a separate Demo environment. Customers having DB2/ SQL Server databases still need to create a Demo environment built using classic installation method.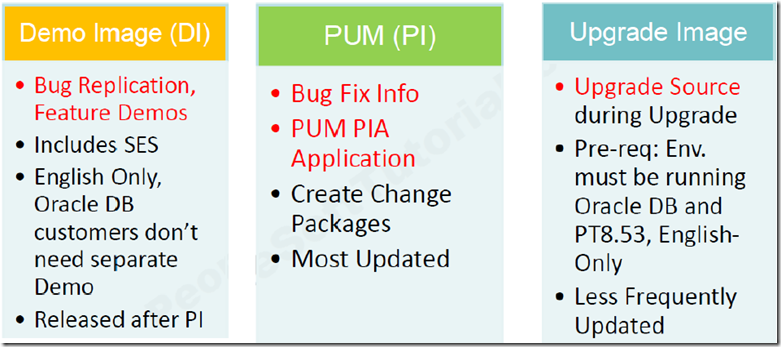 Read: Deploying PeopleSoft Virtual Images on Virtual Box
2. PeopleSoft Image:
PeopleSoft Image (PI) is the one you will find yourself using the most with 9.2 applications. PI is part of the PeopleSoft Update Manager (PUM) which is the new maintenance approach for 9.2 applications. You can read more about PUM here and here.
PI is used for get the bug info and generate change packages to apply selected fixes. Advantage of using PI is that, customers have the flexibility of selecting the bug fixes that they want to apply. Once PI is setup with target environment details uploaded in the image, it is very simple to search, review and apply bug fixes. You can select any of the below scope to search for patches.
All updates not yet installed

Specific updates  – search by entering the bug numbers

Updates by criteria – search by product family, installed product, image number, severity, required at install, required at upgrade etc.

Updates by object name – search by object name e.g. record name, field name etc.
As PI is used for performing PeopleSoft maintenance, it will be the most updated of all the 3 image types and schedule for next image release is posted in advance on Oracle support.
3. PeopleSoft Upgrade Source:
PeopleSoft Upgrade Source image can be used as a source during the Initial upgrade pass. You may already know that when performing initial pass during application upgrade, you are required to provide the source as new release demo environment. Customer who are on PT8.53 and have English-only environment can use the Upgrade source image during the upgrade. This image is the least frequently updated.
Now you have got an overview of the all 3 types of virtual images provided by Oracle, you can start working on the deployment of virtual images.