DNS Server Not Reachable Warning Message When Configuring Virtual Box Image
After you've successfully imported PeopleSoft Image files into Virtual Box, you need to configure the image to update network and application specific details. During network configuration step, if you choose to disable dynamic IP configuration and use static IP configuration then you will be asked to enter IP address, Gateway and DNS details manually.

Below is a scenario where you could get a warning message when trying to connect to DNS server.
"The DNS server entered in not reachable. This is due to either the Virtual Machine's network is attached to a Host-only Adapter(applies to VM's running on Virtual Box) or some other network issue.
It is not recommended to continue the installation with static IP configuration without basic network functionality. Some of components will not initialize properly."

If you get DNS server not reachable warning message, check the following:
Make sure :
Network DNS settings entered are correct and it's reachable from the host machine.
Host Machine is connected to the network.
Check the Network adapter is 'Bridged Adapter' and NOT 'Host-Only Adapter' (screenshot below).
Try changing the Bridged Adapter to a different available name. In one case, warning message was gone after the bridged adapter name was changed. (screenshot below)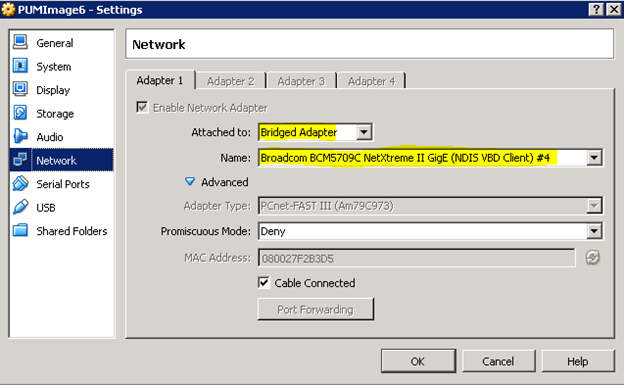 Check the Firewall rules which may be blocking the network.
You should see the message if DNS issue is fixed.

If you happen to find any other solution for the same, please do share with the community here.