How to Get Latest Alerts on PeopleSoft Update Manager
PeopleSoft Update Manager is the new lifecycle management process for PeopleSoft 9.2 customers to use for all their application maintenance needs. PeopleSoft Update Manager will be of limited help if you do not stay current with the latest updates released by Oracle. This article highlights the process you should follow to stay current with any important news for PeopleSoft Update Manager.
You can get the latest updates on PeopleSoft Update Manager using the PeopleTools Alerts.  If you already recieve alerts for other product areas, this note is a suggestion for adding PeopleTools to your existing account settings.  The process for signing up is:
1. Login to My Oracle Support
2. Click on your name in the right hand top corner and a dropdown bar will list "My Account." Click "My Account"
3. Select "Hot Topics E-mail" from the list.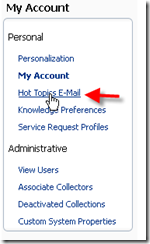 4. Ensure the radio button for "Hot Topics E-mail" is set to ON; choose the Frequency and Item Limit as you desire: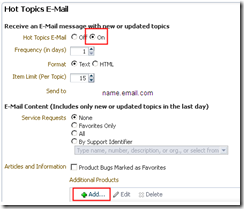 5. Under additional products, select "Add" as shown above and type "PeopleTools" in the pop-up box that appears. Select "PeopleSoft Enterprise PT PeopleTools" from the list that appears: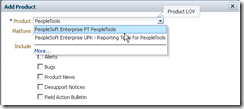 6. Select the type of information you wish to receive. For PeopleSoft Update Manager known issues, news, or other updates, you must select "Alerts":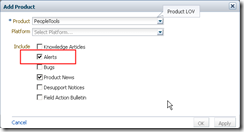 7. Click "Apply"
Note: Oracle recommends that you select Product News to receive the once a quarter newsletter on the PeopleTools product. Selecting Knowledge Articles will result in lengthy emails listing all new knowledge written for the PeopleTools product line.  Consider carefully before selecting this option.
Alerts are used to document critical, high impact and time sensitive/urgent issues.  As a result, they are sent infrequently.