How to access SQL for a Private PS query of another user
PS query is a powerful tool for end users to fetch data from PeopleSoft application and users can create public and private queries.
Although public queries can be viewed by anyone having access to Query Viewer or Query Manager but private queries can only be seen by the user who created them.
But there could be a scenario where you need to view the SQL used by private query of other user. Either you could request the user to create a copy of private query and assign it you. Here is how to do that.
Or you could view the SQL of private psquery from Query Administration as shown below.
Go to PeopleTools > Utilities > Administration >  Query Administration
On this page, search for the query name. You can also filter using the operator id to show private queries of a particular user.


In the search results, check the query name and operator id for the private query . Once you've identified your desired private query,  simply click on 'View SQL' to get the SQL for the private query.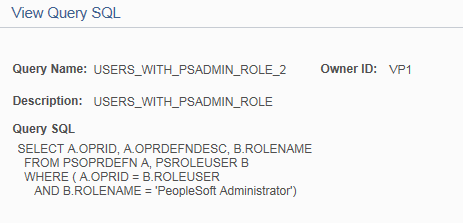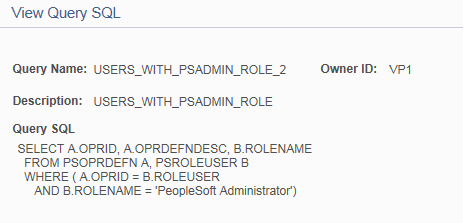 Also learn, how to transfer private query from one user to another.