Search and Add a New Value Links and Action Buttons not Working
After PeopleTools 8.53 upgrade followed by HCM 9.2 upgrade, everything was looking fine except for one of the basic functions – Search or "Add a New Value" Links and Action buttons were not functional. It was just strange to see everything else is working but this piece is not working.
This behavior was the same across all the pages because PeopleSoft uses the same component search in all these pages. When looking up the pages in 2 tier mode mode, it had the search record associated and it seemed to be working fine in 2 tier mode but not in 4 tier mode.
To show you what I mean – here is a screenshot.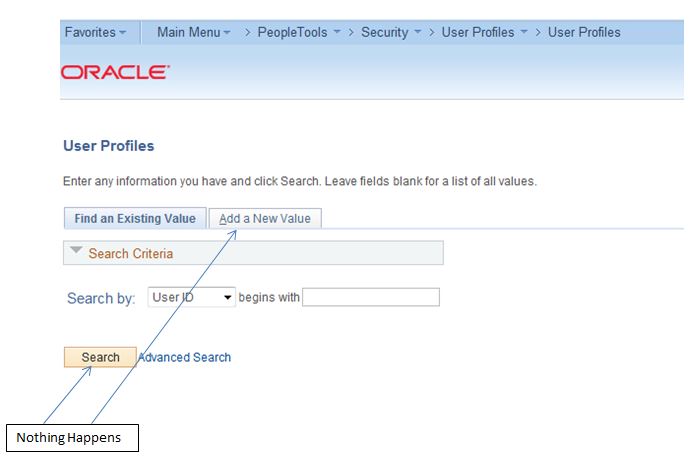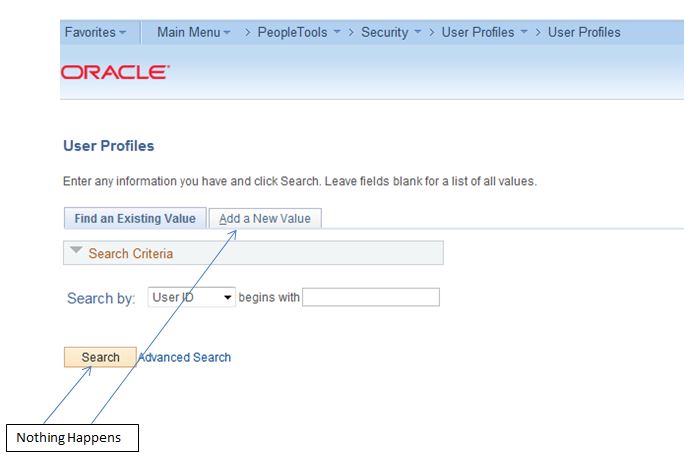 The normal troubleshooting efforts did not yield any result and hence, I decided to open a case with Oracle. To my surprise it was a known issue! I guess I did not search with the keyword correctly in My Oracle Support. You can refer to Doc ID 1630679.1 or 655237.1
For those who do not have access to My Oracle Support – the root cause of this issue is kind of unknown. What is known is that the latest patch either does not get applied or goes missing when the patch is run first during the upgrade and then other upgrade processes are run it seems to corrupt the original patch. So by rerunning this patch it resets what may have become corrupt.
Just something to keep in mind but as of PT 8.50 it seems to help resolve a lot of upgrade related issues.
Reapplying the PATCH PT85x ( where x equals 0,1, or 2 or 3 depending on tools release) will resolve the issue
Here are the instructions:
Please make sure you reapply project PATCH85x with the following steps:
a. Launch Application Designer, and sign on to the database as a PeopleSoft User.
b. Select <Tools>, <Copy Project>, <From File>
c. Enter <PS_HOME>\projects and select PATCH85x from the list of projects.
d. Select <Options> and highlight the languages <Common> and <English> ONLY.
e. Select <Copy> to begin copying updated PeopleTools objects to your database.
If you have Multi language you will repeat the steps with the delivered PATCH85xML
Bounce servers and clear cache, then test issue again.