1
Running SQR from Command Line
You will need to run SQR from a command line usually during upgrades, which makes it real easy to forget how to use it because it is still an old crude method and a single mistake needs you to type the details all over again.
I was looking at what readers are looking for and many of you were looking for this information on how to run sqr from command line, but we did not have that post here. So, here's to meet your need.
To run a SQR on the client workstation using command line, do the following:
Go to Start -> Run and provide the path of the sqrw.exe and the parameters shows below.
Navigate to the folder <PS_HOME>\bin\sqr\ORA\binw
Select sqrw.exe and double click to open
Add the needed flags using the reference provided below
Click OK and the SQR for the PeopleTools version dialog box will appear, displaying the attributes that you entered in the dialog box.
For example, in my case when I ran the SQR from the command line, below was the input I provided to run dddaudit.sqr:
C:\PT8.53\bin\sqr\ora\BINW\sqrw.exe -ZIFC:\PT8.53\SQR\PSSQR.INI          -iC:\PT8.53\SQR\                     -fC:\temp\dddaudit.htm -keep         -printer:ht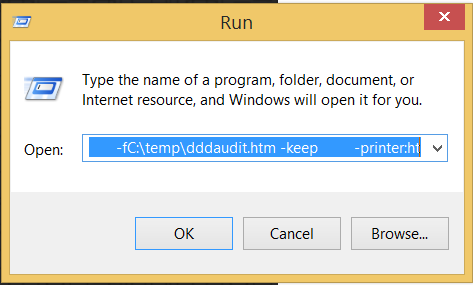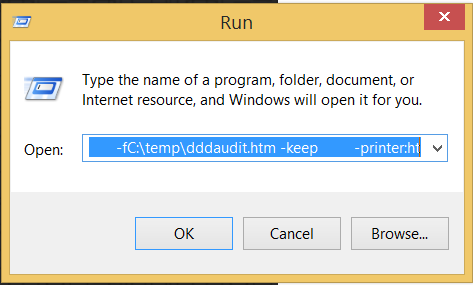 For your convenience, the description of flags is mentioned below:
Flag              Description
-I                   Specifies the directories that the SQR will search for the #INCLUDE files.
-f                   Specifies the directory where the report output will be sent. If you use the -keep flag, specify a directory with an ending slash. If you use the -printer flag, specify a full pathname with a filename for the HTML file.
-ZIF              Sets the full path and name of the SQR initialization file. The -ZIF flag should point to your <PS_HOME>\sqr\pssqr.ini file
-keep            Keep the .SPF file after the program runs. This enables you to view the report with the SQR viewer.
-printer:ht   Generates the output in HTML format. Specify the filename with path location, with the -f flag.
Creating a Shortcut to Run SQRs
Since the SQR dialog box crashes after each invalid input and to avoid typos, it makes sense to create a shortcut to run SQRs.
Navigate to the folder <PS_HOME>\bin\sqr\ORA\binw
Select sqrw.exe, right click and select create shortcut.
Right click the shortcut you just created and select properties.
On the shortcut tab, add the same sqr flags that you used in the previous task
Click OK
To run the report, provide the values as shows earlier.