1
PeopleTools 8.54: Changes in PeopleSoft Change Assistant
PeopleTools 8.54 brings lots of changes to PeopleSoft user interface. With introduction of PeopleSoft Fluid User Interface, PeopleSoft applications can be made flexible and the application display can be changed dynamically based on user's device type.
Design changes have also impacted PeopleSoft maintenance tool i.e. Change Assistant and there are significant changes made to it.  Here are some of the updates to Change Assistant.
Updated User Interface:
As soon as you'll launch Change Assistant for PeopleTools 8.54, you will notice its new look. New User interface uses PeopleTools tangerine color and though it's not much impressive but it's better than previous boring look.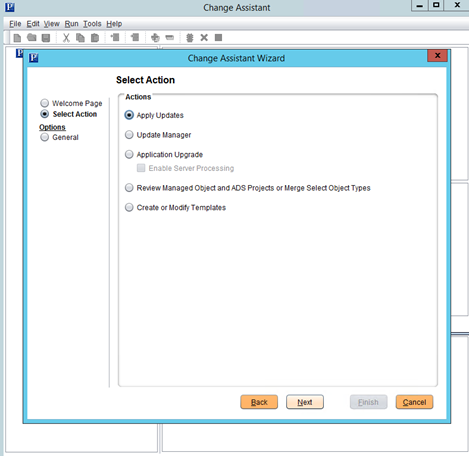 New Features added to CA Job view:
Change Assistant Job View has an option to display filtered template steps. Additionally there are more step statuses added such as 'Steps Completed Manually' etc.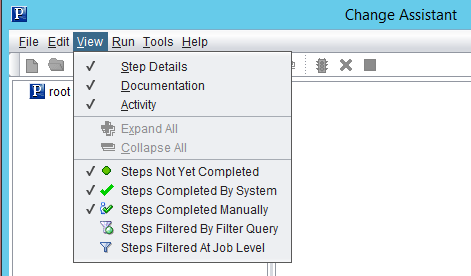 Limited Dependency on Environment Hub:
With PeopleTools 8.54, Change Assistant won't have to rely on EMF (Environment Management Framework) to identify the target databases. Change Assistant will be able to retrieve the database information without EMF. You would still need to configure EMF if you plan to deploy files. (You can anyways copy the files manually :), so  I would say that there is no dependency on  EMF).
Updates to PUM action:
Besides changes to wizard for Change Assistant actions (as shown below for Update Manager action), there have been more changes in PUM target upload process. In PeopleTools 8.53, after you provide the details for target and source environment, clicking on Next would automatically upload the target details to PUM source.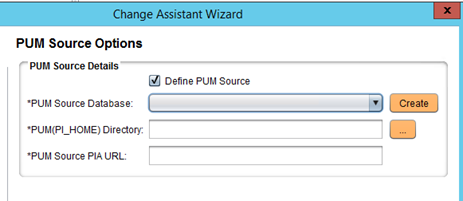 With PeopleTools 8.54, uploading the target details to PUM source is a standalone task and can be done separately.
More options using command line:
Now with PeopleTools 8.54 you can use command line to perform PeopleSoft Update Manager related configuration & setup tasks.
Support for applying database changes delivered with PeopleTools Patches:
When you install a PeopleTools patch, a change package containing all the database changes will be included in the PTP directory. A new task has been added to the Update Manager action "Apply a Patch to Your Current PeopleTools Release". The wizard will guide you through the setup process, check the compatibly and apply the patch.