2
PeopleTools 8.54: PeopleSoft Fluid User Interface Features
PeopleSoft Fluid User Interface is one of the most talked about features of PeopleTools 8.54. It was discussed in many seminars, videos, blog posts and within PeopleSoft community. Now that PeopleTools 8.54 is here, it's time to learn more about this new PeopleSoft user interface.
PeopleSoft Fluid User Interface is a new user interface for PeopleSoft applications and is considered to be a significant improvement over the classic user interface.
Enhanced Usage of CSS, Javascript & HTML5.
There is greater flexibility with enhanced usage of CSS, Javascript & HTML5.
Using PeopleSoft Fluid User interface, developers can design applications which will be responsive based on the device being used by the user. PeopleSoft applications can show more or less content based on the screen size of the device. For example, iPhone  can show just the information which will fit on the screen whereas iPad or Laptop can show more details. All this can happen dynamically and will be controlled by the developers.
PeopleSoft Fluid Pages Managed using Application Designer
Fluid pages can be developed and managed using PeopleSoft Application Designer and developers can apply conditional formatting based on the device type.
Fluid Pages are device independent
Fluid Pages are device independent and will work on any certified browser for that device. You can check browser certifications on Oracle support.
PeopleSoft Fluid User Interface Features
Fluid Home Pages:
Fluid homepages are the fluid version of an application home page. It is just like existing PeopleSoft Homepage.
Tiles:
Tiles are the new navigational structure for PeopleSoft Fluid home pages. These are also known as grouplets and they provide a discrete view of the PeopleSoft application. Tiles can be designed to provide information and dynamic content which can include information from Pivot grids etc. Tiles can be compared to pagelets on classic homepage.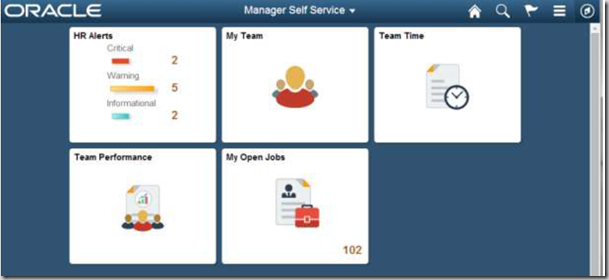 Notification Framework:
This feature is quite similar to Facebook notifications where you're notified for any new update. Similarly in PeopleSoft, Notification Framework will show the notifications in the home page header. It will show the count of items that needs your attention.
PeopleSoft Navigation Bar:
As the name suggests, it helps a user navigate easily inside the PeopleSoft application. It's a dynamic bar that slides out from the side of the page. It includes entire PeopleSoft menu, user favorites , recently used links & navigation links that are most commonly used by the user. Navigation bar can be easily managed by the user and a user will be able to restructure the icons and pin pages to the bar.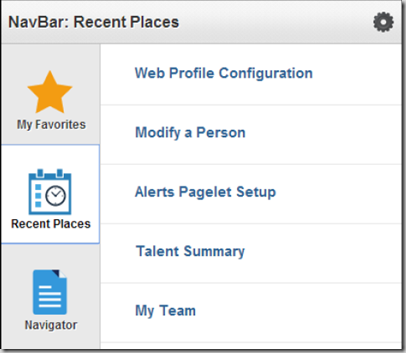 Capability to support device features
With PeopleSoft User Interface, developers can create mobile applications to use device features such as camera for image uploads.
Needs to be enabled for desktop users
PeopleSoft Fluid User Interface was created for mobile users and if desktop users needs to use Fluid pages, then it needs to be enabled separately.
These are some of the new features of PeopleSoft Fluid User Interface. We will keep posting more information related to this in coming weeks.