2
PeopleTools 8.54: Brand New Look for PeopleSoft Login Screen
PeopleTools 8.54 was released last weekend and today we finished the installation of HCM9.2 & PT 8.54. After creating database and configuring Application Server & WebServer, we were eager to log into PeopleSoft application running on new tools release.
PeopleSoft Login Page is completely changed from what we were used to see for pre-8.54 tools release.  Here are few of the changes that we noticed.
New Login Page Color:
PeopleSoft Login Page background color is bluish as compared to regular white for previous releases.
New Logo:
Besides the color, Oracle has also changed the logo for 'Oracle PeopleSoft'. In my opinion this looks a little bit better.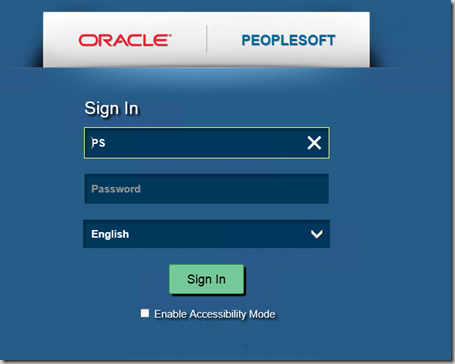 Language Selection:
In previous tools release, there were separate links to select the languages but with PeopleTools 8.54 you can use the drop down button to select the desired language.
Accessibility Mode:
PeopleTools 8.54 allows PeopleSoft applications to conform to WCAG 2.0 (Web Content Accessibility Guidelines) regulatory guidelines.  Web Content Accessibility Guidelines (WCAG) are part of a series of guidelines published by the W3C's Web Accessibility Initiative. Their goal is to make content accessible, primarily for disabled users but also for all user agents, including highly limited devices, such as mobile phones.
Users can now check 'Enable Accessibility Mode' on PeopleSoft Login Page to start the session in accessibility mode.