Journal Processing in PeopleSoft General Ledger
What are Journal Entries?
Any financial transactions in PeopleSoft General Ledger are recorded in the form of Journal Entries. They have the following features:
Consist of header and lines
Follow double entry system i.e. they have debits and credits
Journals must be balanced i.e. debit equal to credit
Journal header is saved in Jrnl_Header table
Journal lines are saved in Jrnl_Lines table
A Journal can be created by other PeopleSoft modules (such as Accounts Payable, Accounts Receivable etc), external sources or manually.
What do you mean by processing a Journal?
Journals need to be posted to target Ledger for further processing and financial reporting. Journal processing needs atleast following two processes:
Journal Edit
Journal Post
Understand Ledger:
Ledger stores the posted Journals for a set of Chartfield values for respective accounting period and fiscal year. Ledger related details are stored in 'Ledger' table.
Understand Chartfield:
Chartfields are the set of parameters on which the accounting system of organization is established. All the transactions are recorded based on these parameters. These Chartfields are decided considering the need of analyzing and reporting of the financial data.
What are Edit and Post processes?
Journal Edit process (GL_JEDIT) is used to verify that:
Journal is balanced i.e. debit equals to credit
Chartfield values are valid
Only successfully validate journals are eligible for posting. In case, of any error identified, those journals are accordingly marked. They can be processed only once the errors are resolved.
How to run Edit and Post processes?
Journals edit and post processes can be run from following two places:
Create/Update Journal entries page is used to edit and post individual journals. Post process can only be run for valid journals. Journal Status can be seen as shown in below screenshot.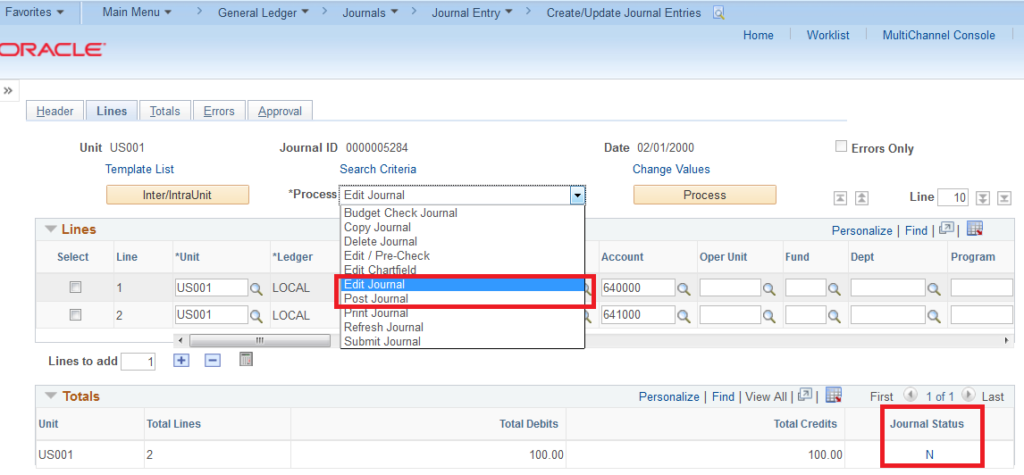 For mass editing of Journals based on various criteria, we can use Edit Journals page as shown below. Navigate to General Ledger > Journals > Process Journals > Edit Journals
Various edit process criteria could be Business unit, Journal source, accounting date etc. Please note that we can combine Edit and Post process both using 'Edit Journals' page. This option is useful while designing the batch.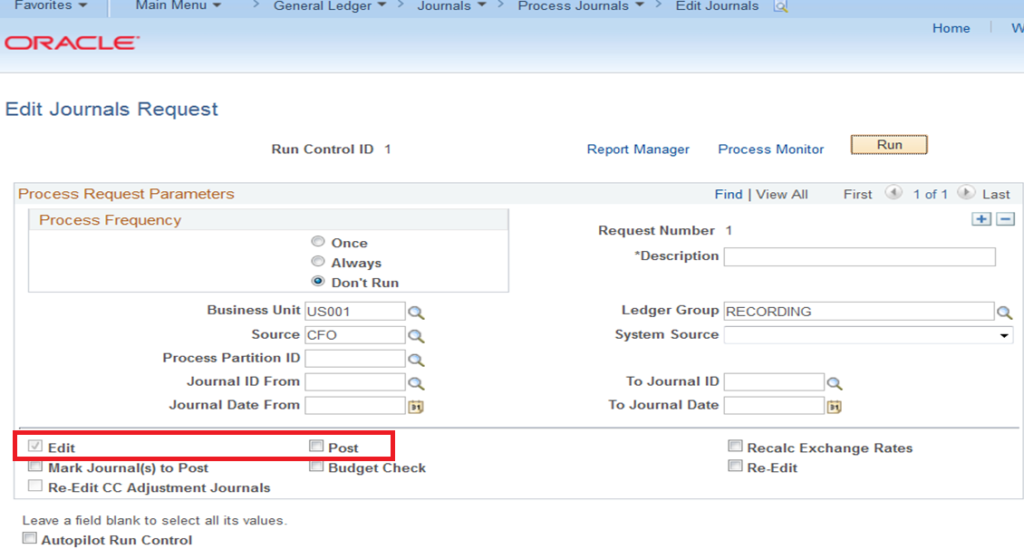 For mass posting of journals below page can be used. Navigate to

General Ledger > Journals > Process Journals> Post Journals.


Only successfully edited journals can be posted using this page. We can select various parameters to decide which journals will be picked for posting.