Processing in PeopleSoft FSCM
In order to have a good understanding of PeopleSoft finance, you must learn how accounting entries are created and processing is done. There are several processes and terms that you need to be familiar with to get a better grasp of PeopleSoft FSCM module. In this post you will learn about accounting entry creation and processing in PeopleSoft Financial applications. For illustration we have included only Accounts Payable, Accounts Receivable and Billing modules.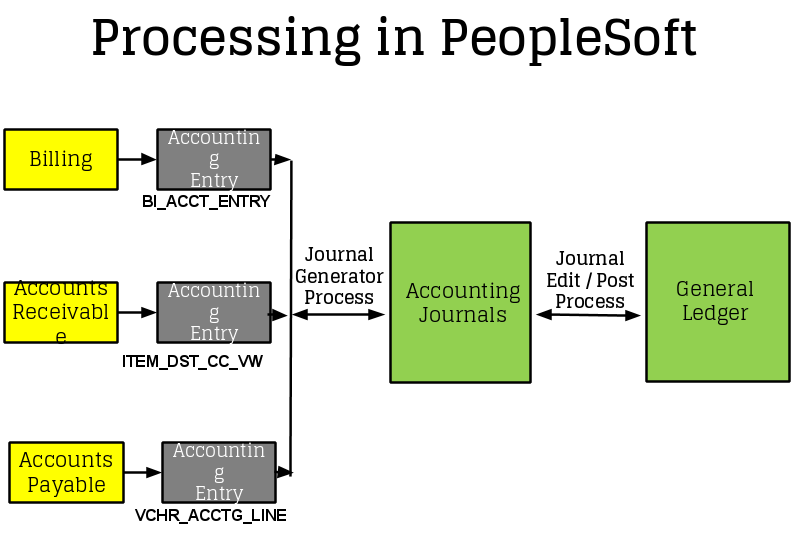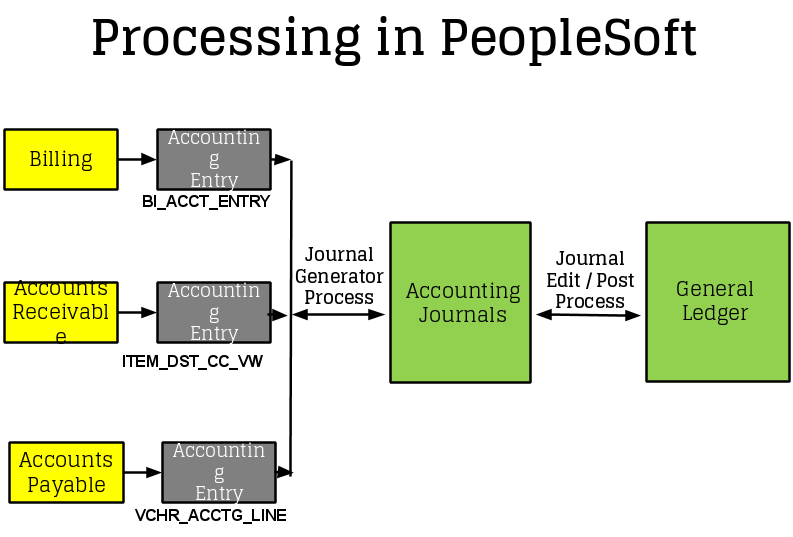 PeopleSoft modules create accounting entries based on business transactions.
These accounting entries are first saved to respective tables for PeopleSoft modules. For example: Vchr_Acctg_Line table is used for Accounts Payable module.
Once accounting entries created by various modules, 'Journal Generator' process can be run to create Journals in General Ledger modules.
Journal Edit and Journal post processes can further post the Journals to Ledger.
Watch below video to learn about PeopleSoft General Ledger Core processes
We can run various General Ledger processes on the Journals which are posted to Ledger. Some of the GL processes are discussed below:
Revaluation

Often we have scenarios where actual transaction is done in some foreign currencies, whereas Business units are maintained in a particular base currency. We would need to perform Revaluation process to reflect the actual base currency values of assets and liabilities as exchange rate fluctuated between base currency and foreign currencies.


Translation

Translation process is used to express ledger balances in terms of another currency, when the balances actually maintained in base currency.


Consolidation

Consider a scenario when the Organization structure comprises more than one business units and we need to describe the financial status for the overall operations. Here Consolidation process needs to be configured to present consolidated financial statement.


Interim Close

This process is used to update Retained earning account and close periods within a fiscal year. It can be even run on daily or monthly basis.


Year End Close

This process is to perform year end processing for the year that includes carry forward year-end balance sheet balance to next year zero balance and close PnL accounts for the current year.