3
PeopleTools 8.53 : How To Install Oracle Client from PeopleSoft Image
PeopleSoft Images are a great way to get started with PeopleSoft within couple of hours. PeopleSoft application installed in Oracle Virtual Box VM, may be accessed from the Windows Client machine where developers/DBA might want to use Oracle Client, App Designer, Data Mover for variety of purposes.
For PeopleTools Clients like App Designer, Datamover to work, Oracle Client (32-bit) should be installed. In theispost we will see how to install Oracle 32 bit client from PeopleSoft Virtual Machine.
After being started, PeopleSoft Virtual appliance can be accessed from Windows machine as network share. By default there will be 3 items in this network share i.e. ca (change assistant), client (peopletools client) and oracle client.
Step1: To install Oracle Client, first get the IP address of the PeopleSoft 9.2 Virtual Machine by using ifconfig command.

Step 2: Now enter this IP Address in Start > Run on Windows machine. This will open up the network share for the Virtual appliance. Go to 'Oracle Client' and then copy contents on your local machine.
Step3: Extract the Oracle Client setup and navigate to client/install folder and run oui. Follow the steps and finish the Oracle Client installation.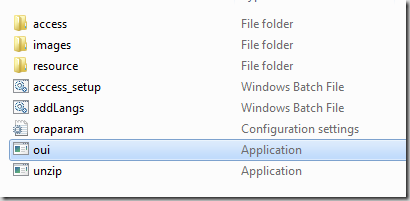 Step4: Copy tnsnames.ora to ORACLE_CLIENT_HOME/network/admin
tnsnames.ora file copied from network share already has tns entries for the PeopleSoft 9.2 applications installed in PeopleSoft Image.