7
Error when invoking PeopleSoft Application Designer
Recently, I was working on one of my old desktop system which I use to test different setups & new things in PeopleSoft and as I was trying to invoke Application Designer on PeopleTools 8.55, I got this weird error which I hadn't seen earlier.
Error when invoking PeopleSoft Application Designer (pside.exe).
I was invoking Application Designer directly from the executable i.e. pside.exe and when I double clicked on it, I got this error. "Your security options are set improperly. Please contact your security administrator".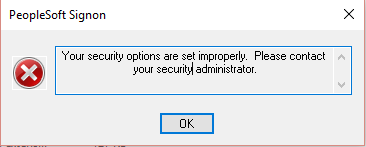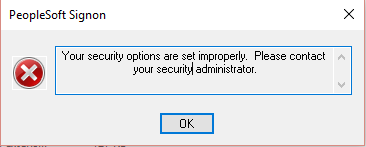 At first, I thought it may be related to windows access as I noticed this PeopleTools Home was somehow set as "Read Only". Changing directory settings also didn't make any difference. After digging around for few minutes, finally I opened configuration Manager(pscfg.exe) and made sure that all the path under 'Profile' tabs are fine and re-entered the Connect ID/ Password on "Startup" Tab. 
After saving those changes in configuration manager, I was able to invoke Application Designer without any issues.
If you get the same error when invoking psae.exe (application engine program) , checkout this post from Grey Heller.