Understanding PeopleSoft Portal Solutions
There has been an explosion of information and applications with the advent of internet and PeopleSoft Portal Solutions is a smart way to make your enterprise accessible through one door. PeopleSoft Portal Solutions is capable of binding together all the web based applications of an enterprise, including non-PeopleSoft applications. Non-PeopleSoft and PeopleSoft applications such as departmental sites, knowledge management resources, enterprise management systems, CRM systems, business intelligence, email, external content, transactions, company policies, workflow and much more – all these can be provided to employees, agencies using role based customizations!
PeopleSoft Portal Solutions offers a one door, role-based, customized homepage that is the single, unifying gateway to all your enterprise information. Employees do not need access two, three, four, or more applications and data repositories to accomplish a single task and deal with multiple sign-ons and interfaces. PeopleSoft portal webtops for employees and managers aggregate information from multiple sources into quick-reference dashboards that aggregates information—all with a single password.
Below image shows example of a PeopleSoft Portal Solution: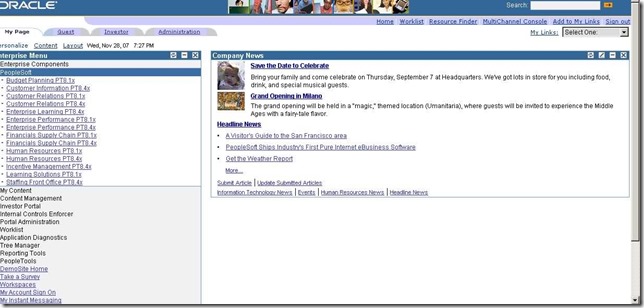 Many enterprises have their own intranet sites, which act like a hub of all the information. Think of PeopleSoft Portal Solution as a delivered solution of the same. The greatest advantage of PeopleSoft Portal Solutions is that it offers a role based web experience, similar to what you experience when you use HRMS, FMS or any other PeopleSoft application. You can only access or view pages, which you're authorized for. The open and flexible technology of PeopleSoft Portal Solutions enables organizations to aggregate any internet content—for example, XML, Java, and HTML.
PeopleSoft Portal Solutions include the prebuilt Customer, Employee, and Supplier Portals. PeopleSoft Enterprise Portal—serves as the development foundation for the prebuilt audience-specific portals.