4
Which is the Best Browser to run PeopleSoft on?
It has been quite a few years that I completely switched over to Firefox and Chrome. I don't not even remember how the IE performs. Though I've read that IE has improved a lot over the years, I was happy sticking to Firefox and Chrome.
I was working with a user on performance issues when I noticed that there is a considerable difference in performance (IE was slower). So, I decided to conduct some tests and see which browser is the best to run PeopleSoft.
It doesn't come as a surprise that Firefox and Chrome fared much better than Internet Explorer. I used the following versions of browsers in the test: Internet Explorer 9, Firefox 21 and Chrome 27 and used PeopleSoft Ping utility for the tests. The tests were run on HCM 9.1 on PeopleTools 8.50.x.
While I ran multiple tests – all the three browsers were tested at the same time and they were subjected to similar conditions. I also ensured that there were the same or no add-ons or plugins installed on all the three browsers.
What is interesting is that while Webserver, Appserver and DBserver response time was quite close – there was a considerable difference in browser response time.
Observations:
Firefox and Chrome had a much better browser response time in the beginning of the test. IE response time 8-10 times more than that of Firefox and Chrome.
Midway through the test, Firefox response time had also increased, but still lesser than IE response time and it continued to vary between 20% to 50% of the response time from IE
The above pictures were point in time, but if we look at the overall time interval picture, it looks something like what is shown below.
Average browser time in case of IE was almost about 4 times that of Chrome and Firefox.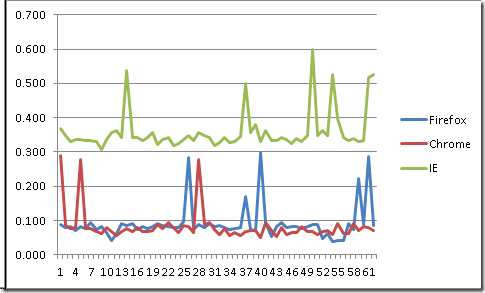 Webserver response time was almost the same.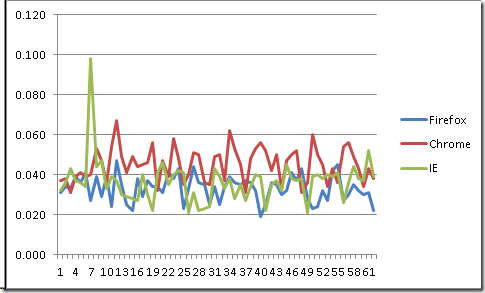 Appserver response time was almost the same.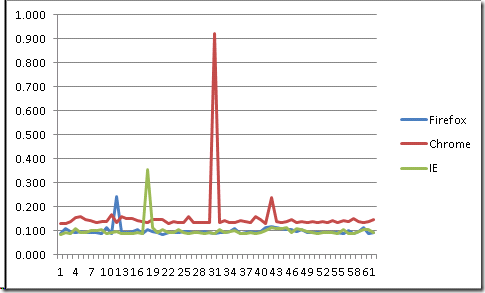 DBserver response time was almost the same.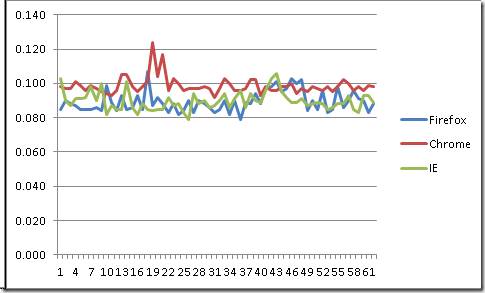 Oracle documentation don't suggest that there should be any difference in performance. However, there is and that too a noticeable one. IE9, which was used in test was supposed to resolve the performance issues associated with IE8, however, I'm still not sure whey there is this difference. Worst aspect is that most of the big organizations have IE as the default browser and they are not willing to switch browser. What a waste of time!
Let me know which is your favorite browser for running PeopleSoft and if you have observed any performance difference.